TGIF and welcome to my curated list of Day of the Dead home and kitchen favorites. Day of the Dead will soon arrive so don't be unprepared and stock up now on all of your sugar skull needs! Day of the Dead (also known as Dia de los Muertos) falls on November 2nd. There is a belief that the spirits of the dead visit families on October 31st and leave on November 2nd. This is a day to celebrate the life of those who are no longer with us and to honor them. These home and kitchen items can be used specifically for the holiday or if you are like me and love skulls, these items are fantastic for year-round use.
Most of these Day of the Dead home and kitchen items are available on Amazon and ship free with Amazon Prime. If you are not an Amazon Prime member you can sign up for a FREE 30-day trial. Please click the links or the images if you would like to shop. Have fun and happy shopping! There is still time to order your Dia de los Muertos items.
This Day of the Dead set by Williams Sonoma features four pieces porcelain serveware the showcases various sugar skulls with vibrant flowers. This set includes 4 salad/appetizer plates and each plate has a different sugar skull design.
O! M! G! I am totally in love with this flatware set and I need it in my life! Quite honestly, this might just be the coolest set of flatware I have ever seen. This is a 65-piece set from Liberty Tabletop and is enough for twelve people. There is a stunning sugar skull design on the handle. These are beautifully crafted and made in the USA. Wow, your guests with this gorgeous set of stainless steel flatware.
Fiesta is really all the rage with me at the current time! Earlier this year I purchased six place settings in a myriad of rainbow colors. I am slowly going to add more to my collection over time (really want it all!!). This is a frosted glass set of 4 with a sugar skull design on the face.
There is also a frosted old-fashioned set available. If you are not into the frosted look Fiesta has a clear design available in cooler size and old fashion size.
This ceramic stoneware mug features a painted sugar skull with a skeleton arm/boney hand handle. I absolutely love this coffee mug and I can totally envision using this mug year-round for my morning coffee.
This elegant, hand-painted Day of the Dead wine glass by Lolita features floral blooms, butterflies, skulls, and crystals. This is a gorgeous wine glass that you can sip your next wine from. This would be the perfect addition to anyone's wine glass collection.
This 16oz Day of the Dead whole bean coffee has a bold taste and is composed of 100% Pure Premium Arabica Beans.
This coffee is also available as a light roast, as well as a medium roast.
I am head over heels with this entire Skull and Vine line by Fiesta. I recently did an entire blog post about my top ten Fiesta items available at Macy's and this plate made the cut! Dinnerware by Fiesta is so durable that it even comes with 5-year chip protection. These items are dishwasher-safe, oven-safe, and microwave-safe. I think of Fiesta as heirloom pieces that are designed to last a lifetime.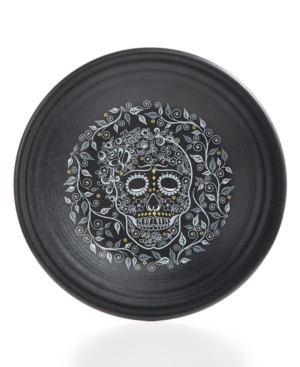 Continue reading "Day Of The Dead Home & Kitchen – Friday Faves" →